Frieze boards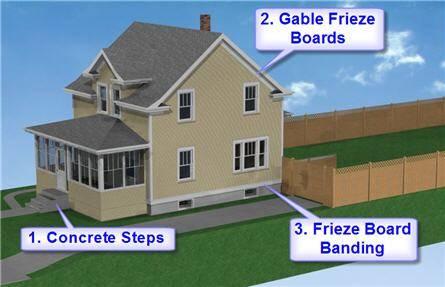 Brothers Roofing holds itself to extremely high standards in quality. We pride ourselves on our use of innovative products like seamless Frieze Boards. Brothers Roofing is one of the only companies in the U.S. offering seamless Frieze Boards.
A frieze board is essentially a horizontal board between 2 inches and 6 inches wide, but this can vary for certain types of applications. A brick box is a type of house made mostly of brick. Frieze boards are placed on brick box houses near the top, where they cover the gap between the soffit and the wall or the gap between the soffit and the brick. In most cases one solid board is used for this purpose, but if you don't have the right size width board, one can be built to your exact specification
Seamless Frieze Boards is also a trim detail, usually 1" x 6" , 8" , or 10", installed horizontally below the soffit, which is the material used to enclose the horizontal underside of an eave, cornice or overhang.
Brothers Roofing uses a seamless steel PVC coated coil of metal, with several colors to choose from, roll formed to the exact size and length of your Frieze boards. This can be done on new construction homes or remodeled homes. Typical Frieze board is 10' lengths of aluminum that overlap and warp in heat and develop lap abrasion.
Contact us for more information on our seamless fascia for your home.